Archive for the 'art intervention' Category
Last night, I watched the bio documentary "Kusama – Infinity" that attempts to capture the life and career of visual artist Yayoi Kusama by Heather Lenz. Unfortunately, I came away wondering why I paid to attend a film that did not present anything that I couldn't have learned from reading her wiki page. The film is conventional, linear and superficial. It begins with Kusama's childhood as the youngest of four children to wealthy parents who owned a seed company. It points out the clash between Kusama and her mother which perhaps was largely based on Kusama's obsessive-compulsive disorder that may have not been understood or her mom had little patience for. And her father's unfaithfulness which her mother had Kusama spy upon (hence the penis soft sculptures). So the film effectively presents a "traumatic" childhood for a sensitive child.
The film documents a letter by Yayoi to Georgia O'Keeffe asking for guidance in becoming a recognized artist that O'Keeffe responded to telling her that she has removed herself from the art world which is in the cities. It continues to poorly attended exhibitions in Matsumoto, Kusama's hometown while by the sounds of it, Kusama has been disowned by her family. However, at a time when it was expensive to fly from Japan to the United States, Kusama manages to do so. I would have liked to have known how she paid for that flight and from where she gathered the U.S. dollars that she sowed in to her kimono.
"Kusama – Infinity" does an excellent job of capturing Yayoi Kusama's 1957-1972 period in New York City and the seemingly classic struggle of the self-obsessed artist doing whatever it takes to be shown and recognized. As an artist based in New York City, I have witnessed too many times, the young, actually also not so young artists attending openings merely to try to schmooze with powerful curators, gallerists, collectors. As in all careers, it's all about the network and getting cozy with the figures that will help one scale the ladder. So it appears that Kusama did this relentlessly, enough so to find a patron to pay for her studio and art supplies and she used her Japanese feminine cuteness/allure to do so.
The film also attempts to paint Kusama as a trail blazer – she was the first to wallpaper a gallery, before Warhol, she was the first to do soft sculptures, before Oldenburg and a mirror room before Samaras. The first two, I don't really buy. If Warhol was inspired by the wallpaper, great, and the cows are his images. If Oldenburg shifted from paper mache to fabric due to Kusama, smart, and again the content is his. However, Lucas Samaras stealing the mirror concept is pretty outrageous as he had not done anything like that and he basically stole Kusama's concept and placed it in a high profile gallery. So that I can certainly recognize and even understand a self-obsessed artist dropping herself out a window (she survives due to falling onto a bicycle).
Regarding her naked body happenings, a lot of artists were doing happenings at that time. And Yoko Ono's "Cut Piece" in 1964 seems much more powerful than any of Kusama's performances. That said, I would have liked to have learned how she went about organizing them.
The film captures her intervention at the Venice Biennial which is commonplace today, I don't know if it was so in 1966. The film also presents Kusama's platonic relationship with Joseph Cornell, her move back to Japan, her re-discovery by the art world in the late 1980s and her rise to current fame. However, the film fails to delve deeply into her psyche, her persona. It does not present anything regarding her siblings and their take on her. The sequences of interview with Kusama present little depth. Perhaps there isn't much more than obsessive compulsive disorder fulfilled by painting dots and a relentless desire for fame. Unfortunately the film is boring, but short enough that it doesn't get tedious.
"RAMMELLZEE: Racing for Thunder" at Red Bulls Arts New York opens with sketches for the artist's graffiti pieces. The drawings immediately bring to mind images of subway cars from the late 70s covered with graffiti. And some visitors may as well recall their own sketch books from the 70s and 80s filled with tags and letter designs for possible pieces to be realized on the street. These early works are the strongest 2D work by Rammellzee that are included in the two-floor exhibition.
As one continues through a dark tunnel lined with early 2D works and iPad slideshows accompanied by audio recordings by celebrities, one will enter a screening room. Projected across bleachers are an assortment of video sequences capturing the artist rapping, lecturing, performing. One video capturing Rammellzee rapping from his Beat Bop classic at a club includes drawings, text and animation by Jean-Michel Basquiat superimposed over the performer. You can see the video here Rammellzee, Toxic C1 and Basquiat Live at the Rhythm Lounge 1983. There is also a sequence from Charlie Ahearn's 1982 "Wild Style" featuring Rammallzee performing on stage. Perhaps amongst the most entertaining sequences are Rammallzee performing as a Garbage God in outlandish costume to Northern European gallery goers who complain to watch his back as he makes his way through the small crowded gallery. Also entertaining (for short bits) are his lectures to perhaps student audiences to his exhibitions, also costumed as a Garbage God and at one point shooting fire from his mouth (which was awesome to watch and hear the gasps from the live witnesses).
Proceeding beyond the screening room, one enters a large gallery with primarily 2D pieces. These works are spray painted works, epoxy frescos, assemblage wall pieces combining found objects, spray paint splashes and loads of resin. Some works feature space ships flying through spay paint environments. For the most part these works seem uninspired and more like 80s bad art.
By far the best work are the Garbage Gods and Letter Racers in the downstairs. Unfortunately, Red Bulls Arts decided to attempt to re-create the sensibility one may imagine from Rammellzee's Tribeca loft – Battle Station by using black light. However, this isn't the famed Battle Station – playground of the artist; this is a fancy art gallery and the black light is unnecessary. The black light makes it difficult to fully appreciate the Garbage Gods costumes that Rammellzee would perform in or the small figures that he created. As someone hoping to fully appreciate this inspired, meticulous work, skip the black light and allow us to carefully study these works. I would have preferred to see these works in this lighting:
In considering this exhibition, I came upon this excellent NY Times 2012 article on Rammellzee that is worth a read, if interested in his work and life. However, if you have a free couple of hours, "RAMMELLZEE: Racing for Thunder" exhibition is a great way to intimately learn about the artist directly through his voice from hours of archival material. Amongst the 2D paintings on the top floor, there is a small listening booth with extended interviews with the artist discussing his life and philosophy. There are also videos with Rammellzee working in the studio, discussing his ridiculously toxic practice as you watch him pouring gallons of resin and spray painting indoors without a mask. Red Bull Arts has done an amazing job of creating a rich portrait of the artist.
Last month I travelled to Cuba to present an art installation at the 7th International Video Art Festival of Camaguey. Ahead of my visit to Cuba, I wanted to make sure that I entered the country with the correct visa. As I'd be traveling with equipment, I did not think it would be appropriate to travel with a tourist visa which is available from the airline that I used for $50.
So I searched online and immediately found the Cuba Travel Services site (which has ads on Google, so it comes up immediately). I used their site to apply for the "Educational People to People" visa category as that seemed the most appropriate visa for my participation in the art festival based on my research. (The Department of Treasury's Office of Foreign Assets Control – OFAC – specifies 12 different categories for travel to Cuba which do not include tourism.) I fill out the Cuba Travel Services form and pay them $110 and a week or so later, my visa promptly arrives. However, what they sent me was a tourist visa, the same exact visa I could have purchased at the gate on the day of travel for $50! I call Cuba Travel Services to tell me that they've sent me the wrong visa as I had applied for the "Educational People to People". They respond that they only sell the tourist visa and that my money would not be refunded.
I was outraged at the fact that I had paid more than twice the amount $110 for a $50 visa. So if you are traveling to Cuba, do not purchase a tourist visa from Cuba Travel Services! They will send you a tourist visa, but it's a scam as you can purchase the same visa for less than half the price from your airline.
Stephen Bickford is a board member of the gallery Cuchifritos at the Essex Street Market and he sometimes sits at the gallery. As I was recording recipes from people at the market, I asked Stephen if he had a contribution. After a few notes to recall all the ingredients, Stephen shared the "Caveman Gratin":
Listen to the full collection of recordings.
Commonly street markets around the world have both an outdoor and indoor space. The perimeters of the market may extend on to the street to invite pedestrians in to the market. Rather than walls, street markets may present large openings and awnings to create an arcade where people are at once outside and inside. The Essex Street Market in the Lower East Side of New York City does not have a side walk extension beyond sandwich boards and signage outside its brick wall. The Essex Street Market facade does not even present pedestrian level windows for those outside to peer in to the interior. The facade is rather an uninviting brick facade, perhaps a planned institutional barrier that Mayor La Guardia desired as he sought to take cart vendors off the sidewalk in an effort to clean up the streets from obstacles and noise. For the exhibition "Lettuce, Artichokes, Red Beets, Mangoes, Broccoli, Honey and Nutmeg: The Essex Street Market as Collaborator" at Cuchifritos curated by Nicolás Dumit Estévez Raful , I have sought to extend the Essex Street Market on to the sidewalk through sound.
There is a long history of market vendors announcing, singing or chanting their goods to the public. On Essex Street before cart vendors were moved off the street and into the market, they would call out their goods, hoping to attract buyers. I imagine that when the market first opened this practice continued. Today, walk through a traditional Latin American market and you will hear various products sung in to the air. To develop my project, I solicited vendors to vocalize their products and the more performative, the better. Only two vendors played along, one eagerly – Rosella Albanese from Pain d'Avignon and another through a bit of coaxing – Yanivis Rodriguez of Luna Brothers. You may listen to each of their recordings below.
Yanivis Rodriguez, Luna Brothers
Rosella Albanese, Pain d'Avignon
When I was trying to talk Yanivis into the recording while she worked the register, a shopper began to tell me about her recipes for preparing yams. It was an older Dominican woman, perhaps in her 60s who after describing her recipe, told me about the many health benefits of yams.
As I was having a difficult time convincing vendors to sing or chant their goods, I decided to request a recipe from them. This turned out effective as I've collected several recipes from vendors and customers. Over the next few weeks, I will describe the interactions with the subjects and you may listen to the shared recipe. The final piece is an audio montage that captures a portrait of the Essex Street Market through the voices of vendors and customers alike all recorded within the market. The audio montage is titled "Recetas y Gangas" (Recipes and Deals) and is available online. And please check out the show at Cuchifritos in the Essex Street Market opening on February 22nd, 2016.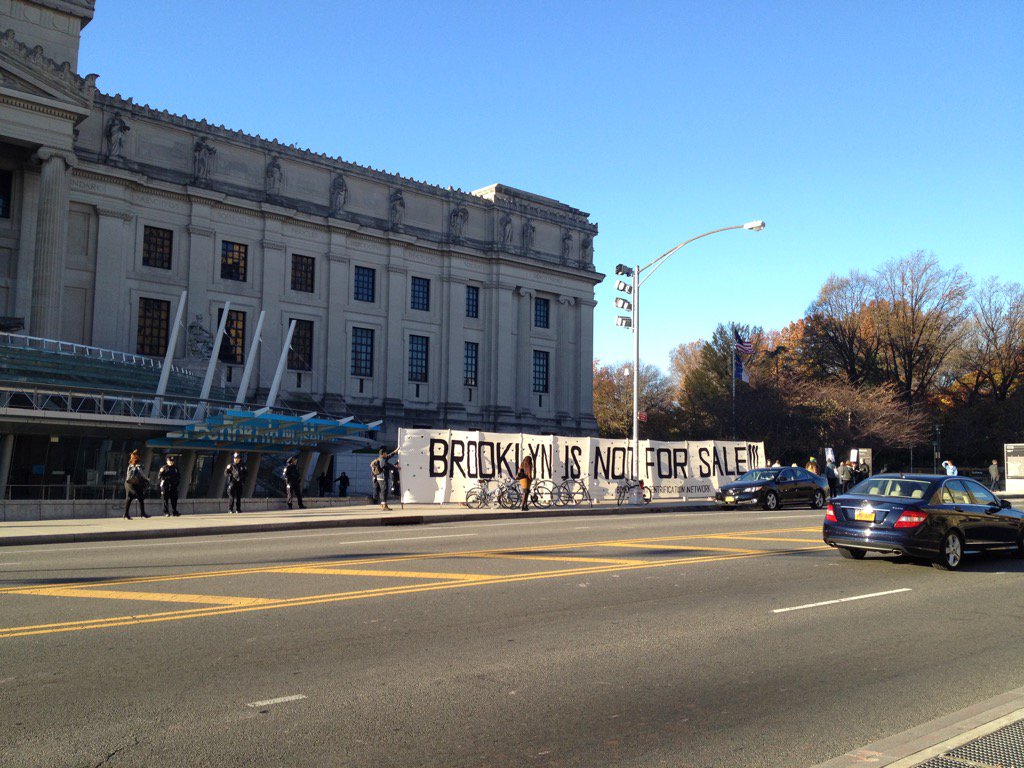 Sadly the Brooklyn Museum hosted a real estate developers summit. Some 600 individuals registered for the 6th Annual Real Estate Developers Summit at the Brooklyn Museum today. I'm saddened that the Brooklyn Museum would host such a summit for individuals to gather, network and "shape the borough into a place to live, work and play". The question is for whom is the borough shaped and of course by whom? Historically, it is for the highest payer/player. These people gather to figure out how to make more money and unfortunately when it comes to "shaping" the city, it's all about money, not about creating better neighborhoods, or livelihoods, or for the care of character or any sense of history… it's about money.
Some 70-100 people gathered in protest in lively fashion for the first time at this real estate conference. Is it too little too late? At NYC speeds, probably so, but for those who could weather the cold under the shadow of the Brooklyn Museum, it was well worth it. The community, neighborhood, artists should protest the next First Saturday at the Brooklyn Museum. It is inexcusable that this institution would host a conference of the people who have displaced so many residents, particularly artists as recently as the targeted development of Gowanus:
Developer Eli Hamway purchased a block of three Gowanus buildings for $21.2 million this spring. Hamway denied lease renewals to the more than 250 artists who rent studios in these buildings, a move many of them see as a signal the building owner wants to free the building of renters to make it easier to flip the property.
The Franklin Furnace Fund awards grants annually to emerging artists to enable them to produce major performance art works in New York. Grants range between $2,000 and $10,000 based on the peer review panel allocation of funding received by Franklin Furnace.
Franklin Furnace has no curator; each year a new panel of artists reviews all proposals. We believe this peer panel system allows all kinds of artists from all over the world an equal shot at presenting their work. Every year the panel changes, as do the definitions of "emerging artist" and "performance art." So if at first you don't succeed, please try again.
Artists from all areas of the world are encouraged to apply; however, artists selected by the panel are expected to present their work in New York. Full-time students are ineligible.
The Franklin Furnace Fund 2015-2016 is supported by Jerome Foundation, the NYC Department of Cultural Affairs in partnership with the City Council, and by general operating support from the New York State Council on the Arts. Artists supported by funding from Jerome Foundation must live in the five boroughs of New York City.
Deadline: April 1, 2015 at 11:59pm Eastern Standard Time
Application Guidelines:
http://franklinfurnace.org/artists/franklin_furnace_fund/docs/ff_guidelines_15_16.pdf
If you have any questions about the application process, please contact:
Jenny Korns
proposals@franklinfurnace.org
Program Coordinator, Franklin Furnace
Come out Saturday to the green space at Division and Bedford, Brooklyn – La Casita Verde – for a fun afternoon of poster making for Sunday's People's Climate March. 1-4pm Saturday, September 20th at 451 Bedford.
Tomorrow Brooke and I will be riding the food rescue and compost bike around New Haven collecting food for the final event of "Vagaries of the Commons." Big thanks to curator Sarah Fritchey for lining up participating restaurants and vendors giving us food that would otherwise be thrown away!
"Vagaries of the Commons," curated by Sarah Fritchey, will be on view July 25 through September 13. Brooke and I are participating in a group show revolving around the concept of the "commons" in today's increasingly privatized public spaces. The curated artists are cultural producers that interact with the gray zones of private vs public to investigate various social issues.
Our food collection and compost bike for the ongoing project EXCESS NYC is on exhibit and on Saturday, September 13th, we will be collecting food and having a picnic as part of that day's closing events.
Here's the full description or go to the Artspace site that also includes links to the artists.
Artists and contributors include: Brad Armstrong, Ricardo Miranda and Brooke Singer; Lani Asuncion and Gary Aronsen; Mengyu Chen; The Elm City Dance Collective; Jason Friedes; Focus Lessness (Michael Romano and Milton Laüfer), Occupy New Haven; Phil Lique; Project Storefronts; Scott Shuldt; and Under 91 Project.

The concept of "the commons" predates the feudal era in early Germanic and Roman settlements, where communal land ownership prevailed. Originally, the concept referred to the public's interest and right to access essential natural resources that are held in common and not owned privately, including land, water, animals and fish. Gradually, as royalty and then a central government gained power, the notion of communal land ownership disappeared and the concept of "the commons" evolved.

In 2014, this concept is increasingly complex. Legislation pertaining to the regulation and privatization of common space responds to changes in government, the economy, the sciences and our natural surroundings. Also, the concept of the commons extends far into the charted and uncharted vacuums of the digital realm.

This exhibition presents a group of artists, based in and around greater New Haven, who make works that operate within the penumbras and cracks of the legal systems that oversee its "commons". These grey zones are the flexible and the often vague environments from which the show's title takes its inspiration

The show identifies four specific sectors and human rights questions addressed by artists practicing in and around New Haven. These include: the material commons (who has the right to order the build and name structures, homes, cities, maps?), the knowledge commons (who has access higher education, public libraries, the internet?), the aesthetic commons (who has the right to define and control image production?) and the affective commons (how are emotions policed and kept public/private?). The essential question that each work asks is: who has the right to have a voice?

The exhibition is organized to mindfully accompany Laureline Kruse's Mobile Museum Student Apprenticeship Program project, which will share an exhibition space with the show.