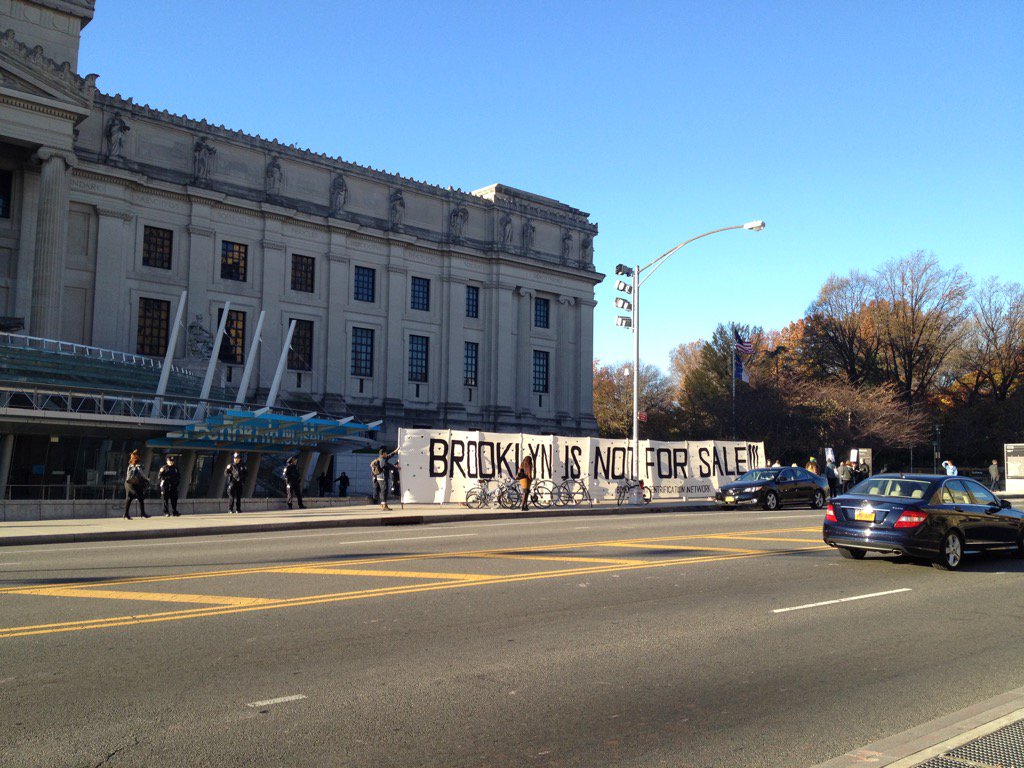 Sadly the Brooklyn Museum hosted a real estate developers summit. Some 600 individuals registered for the 6th Annual Real Estate Developers Summit at the Brooklyn Museum today. I'm saddened that the Brooklyn Museum would host such a summit for individuals to gather, network and "shape the borough into a place to live, work and play". The question is for whom is the borough shaped and of course by whom? Historically, it is for the highest payer/player. These people gather to figure out how to make more money and unfortunately when it comes to "shaping" the city, it's all about money, not about creating better neighborhoods, or livelihoods, or for the care of character or any sense of history… it's about money.
Some 70-100 people gathered in protest in lively fashion for the first time at this real estate conference. Is it too little too late? At NYC speeds, probably so, but for those who could weather the cold under the shadow of the Brooklyn Museum, it was well worth it. The community, neighborhood, artists should protest the next First Saturday at the Brooklyn Museum. It is inexcusable that this institution would host a conference of the people who have displaced so many residents, particularly artists as recently as the targeted development of Gowanus:
Developer Eli Hamway purchased a block of three Gowanus buildings for $21.2 million this spring. Hamway denied lease renewals to the more than 250 artists who rent studios in these buildings, a move many of them see as a signal the building owner wants to free the building of renters to make it easier to flip the property.