Archive for the 'art_technology' Category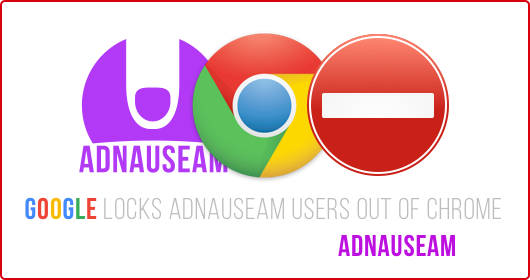 Our clicks appear to be worth money not merely to the mad-men of today, but to the digital overloads that increasingly control the internet. Due to Google popularity and value, it has gained a great deal of control over the surface layers of the internet and in doing so has gained control over a portion of human consciousness. Human consciousness that is very valuable… It can be manipulated and monetized. As with all media, the messages that you see and hear are dictated by the ownership. Once it was thought that no one owned the internet or the web, that it was a free and open space for discourse and exchange. This has not been true for sometime; it really was never true, but early on it was at least less monitored and shaped.
The browser add-on AdNauseam is "designed to obfuscate browsing data and protect users from tracking by advertising networks. At the same time, AdNauseam serves as a means of amplifying users' discontent with advertising networks that disregard privacy and facilitate bulk surveillance agendas." We should not be tracked unless we have agreed to be tracked and not in small print.
AdNauseam – Clicking Ads So You Don't Have To from mushon on Vimeo.
Curators of Interface/Landscape 2016 New Media Exhibition, Claudia Costa and Dale Hudson have selected the online video game OMETEPE to be featured in the New Media portion of the Finger Lakes Environmental Film Festival at Ithaca College, NY. Check out the festival linked above or go directly to the game: for OMETEPE on Firefox/Mozilla or OMETEPE on Safari/Chrome. However, the best experience is to download and play locally. Download links are listed under the game.
This is the latest animated loop inspired by traversing the city. Whether walking or on public transit, observations of urban life trigger visual ideas that are rendered as brief animations. Audio accompanying the animations are recordings from urban walks as well as interviews with NYC residents. The audio accompanying this animation is from a brief excerpt from an extended interview with my 86 year old neighbor Louise.
Go to rmz.nyc to see the entire series, click on the central image to go from one to the next. Through the combination of animation, WebGL, web video and audio as well as various javascript libraries such as p5.js and three.js, the browser is employed as a canvas.
May 10th is the Second Eyebeam Awards Benefit, a gala event that this year celebrates the work of new media curator Barbara London and artist-activist collective Not An Alternative on May 10th from 6:30-9pm at Industry City Distillery, 33 35th St 6A, Brooklyn, NY. If you are unable to attend the gala, please consider making a donation to help Eyebeam to continue to support artists exemplifying creativity and courage!
Eyebeam Mission
Eyebeam is a nonprofit studio for collaborative experiments with technology toward a more imaginative and just world. By providing generous support to artists for research, production and education, Eyebeam makes ideas real.
Eyebeam Model of Practice
As the leading arts organization for technology in the United States, Eyebeam grounds its unique model of practice on the following assertions:
Ideas work. With critical knowledge of the world, people can create a better one.
Process matters. Nothing is more powerful than expectation-free experimentation.
Impact counts. When ideas work together, the effects can cascade exponentially.
The vision of technology here includes all processes, tools and strategies for navigating a complex world. The residency program provides people with space and time to develop their ideas into full projects. Drawing entirely on the community of residents and alums, Eyebeam then expands their work into exciting programs with lasting impact.
to send checks instead of making donations online, they should make checks payable to: Eyebeam
Mail to:
Eyebeam
Attn: André St. Clair
34 35th Street
5th Floor, Unit 26
Brooklyn, NY 11232
Play the memory game concentration with the portraits of dictators from across the globe in recent history. The memory game features illustrations of Stalin, Putin, Smith, Mugabe, Batista, Castro, King Idris, Gaddafi, Somoza, Ortega, Hirohito, Il-sung, the GOP and Dems. Test your dictator knowledge and see if you can identify the portraits! Play it multiple times to sharpen your memory.
Opening this Friday, September 25th 2015 "a geography of being: una geografia de ser" as part of Transitio_MX, Festival de Artes Electrónicas y Video, on view through 4 October, National Center of the Arts, Mexico City. The festival consists of various exhibitions, workshops, lectures and discussions. "a geography of being: una geografia de ser" is part of the exhibition "play ? game [play[not]game] //más allá de la caja negra (beyond the black box)" curated by Brian Mackern.
Since 2005, The National Council for Culture and Arts, through the National Center of Arts and the Multimedia Center, has been organizing the Electronic Arts and Video Festival, Transitio_MX, which has become Mexico's most important platform for expression and contemporary practices in artistic creation that are linked to technology, as well as hybrid productions created by the merge of art, science, technology and humanities.
Play "a geography of being: una geografia de ser" online or with Spanish subtitles.
a geography of being is an interactive art installation that reflects upon the dynamics of the undocumented immigrant population in the United States, specifically in relation to undocumented youth. The installation consists of wooden kinetic sculptures with animated displays titled "Undocumented Drones" and a video game that places the player in the role of an undocumented youth that must face several challenges in the search for self-determination beyond the imposed constraints of citizenry. The visitor to the installation plays the game, the "Undocumented Drones" react to game play and may help the player along. The installation was on view at The New York Hall of Science from October 27, 2012 to January 13th, 2013 as part of the exhibition ReGeneration.
The installation has been produced with the help of Cesar and Vishal, two young men who immigrated to the United States as young children. Their experiences and observations helped develop the game and determined the final goal of the game – self-determination. The conversations with Vishal and Cesar were incredibly revealing and extended the question of citizenry beyond civil status or politics to personal psychological realities. These are personal realities that effect friendships, romantic relationships as well as day to day life. For these two young men, a defining role has been that of activists and forming a powerful community in the New York State Youth Leadership Council.
This year's installation of Mexico City's Festival of Electronic Arts and Video Transitio_MX 06 is titled "Cambios Compartidos" ("Shared Changes") and opens Friday September 25th and runs through October 4th at the National Center of the Arts. "a geography of being : una geografia de ser" will be on view and the game is available to play online.
Eyebeam is a not-for-profit art and technology center that offers artists fellowships and residencies and presents new media exhibitions; it is one of a kind here in the U.S.. I have been an artist in residence and Eyebeam has always been supportive of my work. Although there are several art and technology institutions in Europe there are few to none in the United States that are dedicated to the creation and union of art and technology free of commercial interests. Please consider attending this important event or donating to Eyebeam. Below is the invitation.
Eyebeam's first Award Benefit Celebrating Creativity and Courage in Art & Technology
21 April, 2015
6:00PM – 8:00PM
Sony Wonder Technology Lab
550 Madison Avenue (entrance on 56th Street)
New York, NY
For tickets please click here.
Join us at Eyebeam's First Awards Benefit on 21 April! We will be honoring Ayah Bdeir and Trevor Paglen and featuring work by several current and recent Eyebeam artists.
Ayah Bdeir is being honored for enabling current and future generations to easily explore technology's creative potential and Trevor Paglen for helping citizens understand the profound magnitude of digital surveillance through a variety of media. Together, their creative and provocative work demystifies public understanding of technology.
For more information see our announcement here.
___
Eyebeam is a nonprofit artist colony and R+D lab that supports creative and risk-taking work at the intersection of art and technology. Eyebeam exposes diverse audiences to experimental and interdisciplinary work, providing an environment for dialogue, collaboration, learning and discovery.
www.eyebeam.org
My 2001 net.art project "audiophile" is on view as part of the exhibition titled "Press Play" curated by Ruth Bruno and Cortney Lane Stell. "Press Play" is collaboratively produced between RedLine and Denver Arts & Venues. The exhibition is on view at McNichols Civic Center Building 144 West Colfax (corner of West Colfax and Bannock) from March 21st through June 28th.
Curators Stell and Bruno describe the conceptual premise of the "Press Play":
"Rules of games, like those found in video games, imply ethical models or boundaries to be kept within in daily societal interactions and experiences. These parameters often structure our actions, perspectives, and worldviews. The artists in Press Play use these normative tools as structure, starting points, or forces to push against in their work. While some artworks explore conventional modes of structured play, other works use ruled play systems in order to subvert these conventional models of participation and competition."
Participating Artists: Mark Amerika, Molly Bounds, Brody Condon, Milton Croissant III, Humberto Duque, Joseph Farbrook, Miltos Manetas, Eva and Franco Mattes, Alex Myers, Chad Person, and Ricardo Miranda Zúñiga.
Eyebeam's First Awards Benefit
21 April, 2015
6:00PM – 8:00PM
Sony Wonder Technology Lab
550 Madison Avenue (@56th Street)
New York, NY
For tickets please click here: https://www.artful.ly/store/events/5306
Please join chair Marcy Bloom at a cocktail reception celebrating creativity & courage in art & technology at Eyebeam's first ever awards benefit.
Hosts:
Jed Alpert, Emma Canarick, James Clar, Samara Daly, Ed Davis, Leah Gauthier, Amy Kletnick, Steve Lambert, Zachary Lieberman, Ricardo Miranda Zuniga, David K. Park, Tatiana & Campion Platt, Brian Rosenzweig, Ellen Sandor, Marc Schiller, Joe Versace, Alex Villari, and Caroline Woolard in formation.
Eyebeam is the leading not-for-profit art and technology center in the US that provides a fertile context and state-of-the-art tools for digital research and experimentation. It is a lively incubator of creativity and thought, where artists and technologists actively engage with culture, addressing the issues and concerns of our time. Eyebeam challenges convention, celebrates the hack, educates the next generation, encourages collaboration, freely offers its contributions to the community, and invites the public to share in a spirit of openness: open source, open content and open distribution.