Creatures filled with hatred toward other human beings.
I have been working on a series of portrait illustrations of individuals that I consider akin to dictators over the past year. The series is titled "Drunk with Power". The intention of the illustrations is to make them into animations which is happening very slowly. Occasionally, I'll make a quick animation, such as the one above. There is also a web version of this animation that uses code for the background rather than triangles colored using markers: http://rmz.nyc/mugabe.html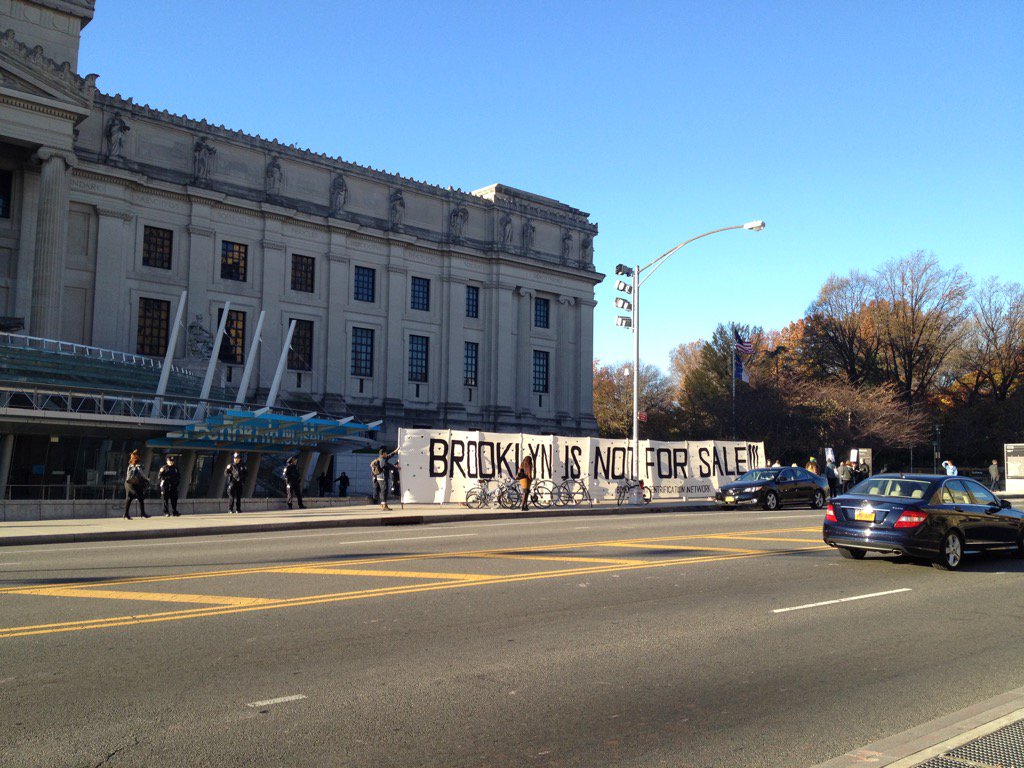 Sadly the Brooklyn Museum hosted a real estate developers summit. Some 600 individuals registered for the 6th Annual Real Estate Developers Summit at the Brooklyn Museum today. I'm saddened that the Brooklyn Museum would host such a summit for individuals to gather, network and "shape the borough into a place to live, work and play". The question is for whom is the borough shaped and of course by whom? Historically, it is for the highest payer/player. These people gather to figure out how to make more money and unfortunately when it comes to "shaping" the city, it's all about money, not about creating better neighborhoods, or livelihoods, or for the care of character or any sense of history… it's about money.
Some 70-100 people gathered in protest in lively fashion for the first time at this real estate conference. Is it too little too late? At NYC speeds, probably so, but for those who could weather the cold under the shadow of the Brooklyn Museum, it was well worth it. The community, neighborhood, artists should protest the next First Saturday at the Brooklyn Museum. It is inexcusable that this institution would host a conference of the people who have displaced so many residents, particularly artists as recently as the targeted development of Gowanus:
Developer Eli Hamway purchased a block of three Gowanus buildings for $21.2 million this spring. Hamway denied lease renewals to the more than 250 artists who rent studios in these buildings, a move many of them see as a signal the building owner wants to free the building of renters to make it easier to flip the property.
Mary Reid Kelley – "On Embarrassment" from Hammer Museum on Vimeo.
Last week I encountered Mary Reid Kelley's new video at Frederick & Freiser Gallery in Chelsea and it is great! Upon walking in, I was about to walk out, because the video uses poetic verse which I generally do not want to listen to. However, the visuals, the costumes and makeup, the embedded videos and the use of Greek mythology are so quirky that I stuck around and I'm glad that I did. The artist takes the role of Dionysus and has fun with gender role reversal while celebrating sexual appetite and I'm certain there is more to the piece. The entire video is available on Mary Reid Kelley's site.
Unfortunately, I was not prepared to record Richard Stallman's song about email that he sang before his lecture, but I did record the entire lecture which is smart and entertaining. Unfortunately, it feels like a battle cry for a long lost war. However, if you've been thinking about deleting your FB and Instagram accounts and dumping your proprietary operating systems for GNU/Linux and switching to free software, then listen to this lecture and allow Richard Stallman to convince you to make the leap into freedom.

People should have the right to copy and modify programs.

People should have the right to redistribute programs with changes.

People should not be used by their programs or it's makers.

Amazon Swindle will track your reading, delete files, make changes to your device.

Companies abuse their users for profit, don't allow yourself to be abused.

You are tethered to Apple to make the company immense amounts of money.

When teachers teach proprietary software, it's just like selling cigarettes to kids.

Free software presents the freedom to knowledge, to learn what makes the software, it presents the possibility to modify the software and to freely share with others. The basis of free software is the free exchange of information and knowledge. So meet the free software gang and be liberated from the likes of Microsoft or Adobe.
Animator Leash Shore is awesome! She fluidly mixes so many different types of animation from hand drawn and painted to computer drawn to claymation to montage, from black and white to color… and it all comes together beautifully. I particularly like how she will render the same character in different formats. Charles Manson is at first a drawing with a blacked out head, later he is a claymation style puppet with a ball of hair for a head.
And the train of thought represented in the visuals is engaging while being imaginative… The jumps from one subject to another is weird, but they make sense, such as JFK's head morphing into Fidel, Marilyn, Hitler… This is inspiring work!
Old Man from Leah Shore on Vimeo.
I don't recall what compelled me to start saving images from the Hong Kong protests last year. However, as I saved them, I began manipulating the digital files by changing the files extension to be able to open them in a basic editor as text and to read the meta data on the images. As I did so, I would rearrange the data making up the image itself. It seemed appropriate to confuse the file by cutting data, changing the order of the data or adding new data. Not unlike the Occupy Movement here in the United States, the Umbrella Revolution appeared as a young and inspired population that would eventually dissipate against an all powerful ruling force. Perhaps, when this generation comes to power, they will recall the energy and desire of this time. I've decided to arrange the images into a small book that is available on Blurb or you can merely view the images online. Below are a few images from the series of 20.
Nathan Fitch is an extraordinary photographer and film maker and the pieces that I've seen of his documentary "Island Soldier" are emotionally striking and enlightening. This is a project well worth supporting via Kickstarter "Island Soldier".
Between the Museo de Arte Moderno and Museo Universitario Arte Contemporanea (MUAC) there was a great deal of Carlos Aguirre (Acapulco, Mexico 1948) to take in this past month in Mexico City. "Zona de Riesgo" was the retrospective of the artist's work from 1979 to 2014 installed at Mexico City's Museum of Modern Art. The show was excellent and an amazing overview of an incredibly active artist. In general the exhibition is dark, even macabre as Aguirre appears to be driven by the violence of Mexico from the execution of criminals to excessive contamination.
Upon entering the multi-gallery exhibition, one is greeted by a line of axes cleaved into a white wall. The blades of the axes are mounted on to branches, a powerful transformation of the ax that reminds the viewer of the violent nature of deforestation. In the early 1990s, Aguirre visualizes environmental impact with objects that may not be ignored such as blackened human lungs split open and cast in clear material hanging over a box filled with carbon.
In the next gallery hangs an electric chair and below it the portraits of those executed. Near by is "Los olvidados" (1990), a giant portrait of a man in profile constructed from work gloves used by laborers.
As I continued through the exhibition, I was drawn to a grid of small newsprint cutouts pinned to a wall. It was "Name of Dead" 1139 obituaries carefully cut out and posted to the gallery wall. The various galleries are joined by a large circular and domed area where "Dialectica, inteligencia vs. poder" (1995) is suspended. The piece is composed of many fire extinguishers hanging at various heights and at the center hanging at the end of a metal bar are a human brain and a small bust of Gustavo Díaz Ordaz, the president during the Tlatelolco massacre of 1968 when hundreds of unarmed protestors were shot.
Beyond "Dialectica, inteligencia vs. poder" lies a dirt rectangle upon the floor and above the dirt are many shovels placed upon a wooden structure. When the dirt is inspected one will find human teeth and bones as well as corn.

One of the final pieces in the exhibition is a black priest's robe embroidered with 200 names of victims sexually abused by priests when the victims were children.

There is not much nuance in the visual metaphors constructed by Carlos Aguirre, instead the work is direct and confrontational. He makes it difficult to ignore the dark realities of our culture, Mexico's reality is one giant risk zone or zona de riesgo.
At MUAC there is a large retrospective of the artist collective Grupo Proceso Pentágono in which Carlos Aguirre played a role during a period of time. For this exhibition, Aguirre rejoined the group to create a critique of the 43 missing students who disappeared on the night of September 26th 2014.
Yesterday, Friday September 25, 2015, I enjoyed a free day in Mexico City (free of any work as I'm here for Transitio_MX 06). I headed to el Bosque de Chapultepec where I went to the Museum of Modern Art and then to the National Museum of Anthropology. The two exhibits that I enjoyed in particular at the Modern Museum were the solo exhibitions by Lorena Wolffer and Carlos Aguirre, both contemporary Mexican artists and both politically oriented. Carlos Aguirre being the older of the two appears to do primarily representational art inspired by violence in Mexico. Whereas Lorena Wolffer creates participatory work and does public actions, primarily related to violence toward women. Below are images from the travel to Chapultepec with the exception of this first image from Condesa.


I love these drawing desks, placed in front of the Aztec sculptures so that anyone may sit and render the sculpture.