Commonly street markets around the world have both an outdoor and indoor space. The perimeters of the market may extend on to the street to invite pedestrians in to the market. Rather than walls, street markets may present large openings and awnings to create an arcade where people are at once outside and inside. The Essex Street Market in the Lower East Side of New York City does not have a side walk extension beyond sandwich boards and signage outside its brick wall. The Essex Street Market facade does not even present pedestrian level windows for those outside to peer in to the interior. The facade is rather an uninviting brick facade, perhaps a planned institutional barrier that Mayor La Guardia desired as he sought to take cart vendors off the sidewalk in an effort to clean up the streets from obstacles and noise. For the exhibition "Lettuce, Artichokes, Red Beets, Mangoes, Broccoli, Honey and Nutmeg: The Essex Street Market as Collaborator" at Cuchifritos curated by Nicolás Dumit Estévez Raful , I have sought to extend the Essex Street Market on to the sidewalk through sound.
There is a long history of market vendors announcing, singing or chanting their goods to the public. On Essex Street before cart vendors were moved off the street and into the market, they would call out their goods, hoping to attract buyers. I imagine that when the market first opened this practice continued. Today, walk through a traditional Latin American market and you will hear various products sung in to the air. To develop my project, I solicited vendors to vocalize their products and the more performative, the better. Only two vendors played along, one eagerly – Rosella Albanese from Pain d'Avignon and another through a bit of coaxing – Yanivis Rodriguez of Luna Brothers. You may listen to each of their recordings below.
Yanivis Rodriguez, Luna Brothers
Rosella Albanese, Pain d'Avignon
When I was trying to talk Yanivis into the recording while she worked the register, a shopper began to tell me about her recipes for preparing yams. It was an older Dominican woman, perhaps in her 60s who after describing her recipe, told me about the many health benefits of yams.
As I was having a difficult time convincing vendors to sing or chant their goods, I decided to request a recipe from them. This turned out effective as I've collected several recipes from vendors and customers. Over the next few weeks, I will describe the interactions with the subjects and you may listen to the shared recipe. The final piece is an audio montage that captures a portrait of the Essex Street Market through the voices of vendors and customers alike all recorded within the market. The audio montage is titled "Recetas y Gangas" (Recipes and Deals) and is available online. And please check out the show at Cuchifritos in the Essex Street Market opening on February 22nd, 2016.
Denver-based artist Tony Ortega shared recent videos montages incorporating a sequence of rotoscope animation that he created in a workshop that I taught last summer. The montages are so much fun that I felt the urge to share. The sequences are well selected and the timing is excellent, nice way to kick off a Tuesday morning!
Chicano Western from Tony Ortega on Vimeo.
Puro Party from Tony Ortega on Vimeo.
Tony states:
I created the art video Puro Party to explore my interest in identity and hybridity. I am using a variety of I pad apps, rotoscoping animation, appropriated gifs and appropriated music. In creating these videos, I am using grids to organize the composition and I incorporate pattern and repetition. In my creative process I use distortion and exaggeration for emotional effect. My work interweaves, juxtaposes unlikely images from American, Mexican and Chicano cultures that include icons, symbols, history, humor and the contemporary world to foster opportunities for the bending of meaning.
My wife emailed me the video below and dared me to send it to our downstairs neighbor (we live in a six story 1920s art deco Brooklyn coop building). The video captures our neighbor's perception of us. Following his complaint to our coop board for our walking, we met with the building's head of management who served as the mediator. At the meeting our neighbor stomped around, pounding the floor as hard as he could to illustrate the manner that we walk in our apartment. And he claimed that we walk this way to intentionally abuse him! This man actually thinks we walk in our apartment with him in mind, because we are bent on torturing him at all times. In his mind, we are the upstairs couple in this video:
Unlike the video above, our neighbor has anger issues and has twice slammed on our door to yell at us, once for bouncing a nerf ball with a toddler and the second time for allowing our 3 year old to run in the apartment (we didn't allow him, but he was three). This is following three years of this neighbor telling us how great we were (we moved in just before our son was born). We went from being great neighbors to intentionally stomping on our floor to torture the man. My kid is now seven, so the years of nastiness now out-number the friendly years… It's a bit nuts as we do not wear shoes in the house, throw parties, stay up late or even play music loudly (we listen to WNYC).
This past fall, I entered in to a conversation with a man named Jerry who sat near me on a downtown Brooklyn bench. Jerry was very interested in what I do for a living and asked me to teach him any skills I may have. I told him that I'd be happy to, gave him my card, but told him that he'd have to show up sober. I haven't heard back from Jerry yet. Some weeks later, I photographed people recycling in the Lower East Side during an afternoon walk about a week before Christmas 2015. There was no particular reason to take the photo other than I liked the composition. Here is the photograph as an animated illustration and a small portion of Jerry talking about the social contract in U.S. culture… According to Jerry, we all play a role in the project that is this country and he wants to play a larger role.
New York City presents an opportunity for creativity at all times including dull subway rides.
I'm currently teaching myself Unity by reading through Unity in Action and as an initial finished project, I've built a card matching game that is covered in the fourth chapter of this book. I decided to utilize the dictator portraits that I've been creating for a print and animation series titled "Drunk with Power". The game is available online, so test your memory by matching the 14 dictators illustrated onto the cards in the game "Amnesia". In case you are not able to identify some of the portraits and would like to know who they are, the illustrated dictators are: Somoza, Ortega, Stalin, Putin, Idris, Gaddafi, Batista, Castro, Smith, Mugabe, Hirohito, Kim Il-sung, the GOP and the Dems.
I could not not include the United States of America. By placing the mascots of the U.S. Democratic and Republican parties amongst the portraits of Latin American, Soviet, African, Middle Eastern and East Asian dictators, the viewer is asked to question the concentration of political power within only two political parties and the ideologies that they expound. Excluded from power are any third parties and alternative political views or social movements. Through the recent victory of Citizens United (2010), the concentration of power has been fortified by unlimited corporate spending on political campaigns to influence elections. The passing of this Constitutional law is akin to the oligarchies represented by the rest of the portraits. Just as with the countries controlled by the depicted dictators, the United States is not a democracy. Play "Amnesia"! (The portraits look a lot better when played full-screen.)
Creatures filled with hatred toward other human beings.
I have been working on a series of portrait illustrations of individuals that I consider akin to dictators over the past year. The series is titled "Drunk with Power". The intention of the illustrations is to make them into animations which is happening very slowly. Occasionally, I'll make a quick animation, such as the one above. There is also a web version of this animation that uses code for the background rather than triangles colored using markers: http://rmz.nyc/mugabe.html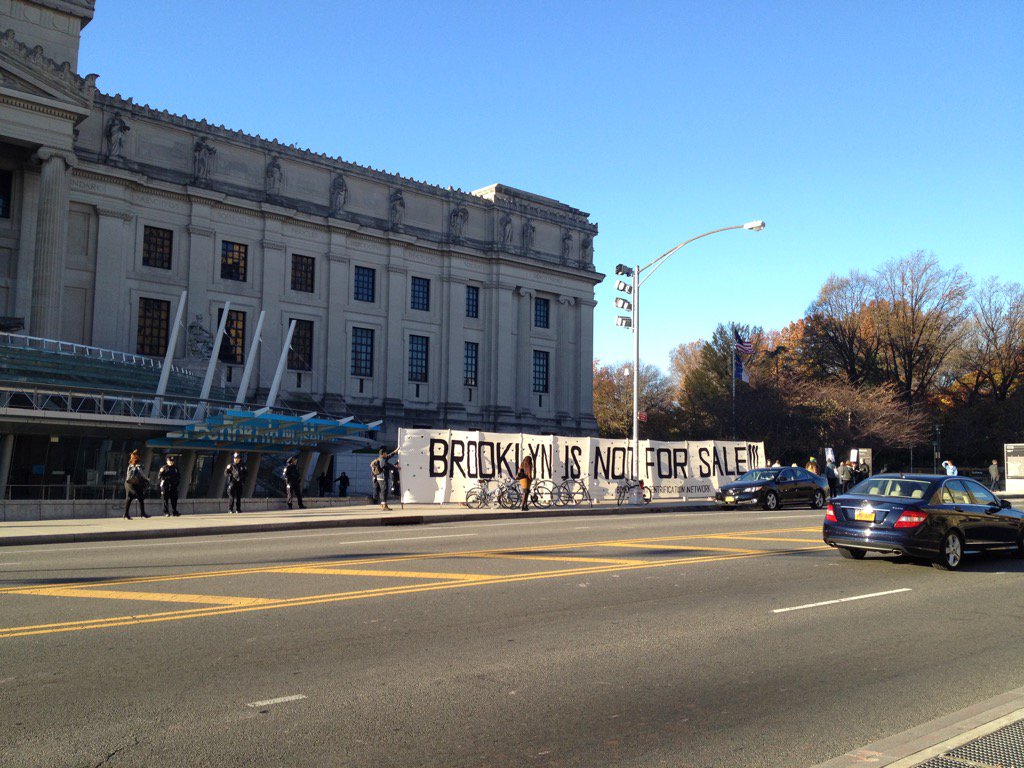 Sadly the Brooklyn Museum hosted a real estate developers summit. Some 600 individuals registered for the 6th Annual Real Estate Developers Summit at the Brooklyn Museum today. I'm saddened that the Brooklyn Museum would host such a summit for individuals to gather, network and "shape the borough into a place to live, work and play". The question is for whom is the borough shaped and of course by whom? Historically, it is for the highest payer/player. These people gather to figure out how to make more money and unfortunately when it comes to "shaping" the city, it's all about money, not about creating better neighborhoods, or livelihoods, or for the care of character or any sense of history… it's about money.
Some 70-100 people gathered in protest in lively fashion for the first time at this real estate conference. Is it too little too late? At NYC speeds, probably so, but for those who could weather the cold under the shadow of the Brooklyn Museum, it was well worth it. The community, neighborhood, artists should protest the next First Saturday at the Brooklyn Museum. It is inexcusable that this institution would host a conference of the people who have displaced so many residents, particularly artists as recently as the targeted development of Gowanus:
Developer Eli Hamway purchased a block of three Gowanus buildings for $21.2 million this spring. Hamway denied lease renewals to the more than 250 artists who rent studios in these buildings, a move many of them see as a signal the building owner wants to free the building of renters to make it easier to flip the property.
Mary Reid Kelley – "On Embarrassment" from Hammer Museum on Vimeo.
Last week I encountered Mary Reid Kelley's new video at Frederick & Freiser Gallery in Chelsea and it is great! Upon walking in, I was about to walk out, because the video uses poetic verse which I generally do not want to listen to. However, the visuals, the costumes and makeup, the embedded videos and the use of Greek mythology are so quirky that I stuck around and I'm glad that I did. The artist takes the role of Dionysus and has fun with gender role reversal while celebrating sexual appetite and I'm certain there is more to the piece. The entire video is available on Mary Reid Kelley's site.